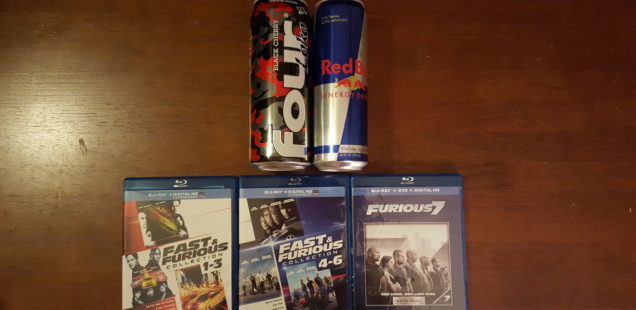 The 7 Days of the Fast and the Furious Drinking Game: Day One (The Fast and the Furious)
About 15 years ago, I watched my first Fast and Furious movie. Kinda. My friend invited me on a vacation to Chicago for the weekend, and we watched The Fast and the Furious on his mom's laptop. Only it ran out of batteries 3/4s of the way through and I never got to see the end. Later in life, I would watch Tokyo Drift. It was pretty okay. Since then, I've watched The Fast and Furious series grow into a 7 movie behemoth. Against all odds, it just kept going and going and somehow getting better and better. It's really pretty amazing. And now I want in.
So I'm going to play a drinking game while I watch all 7 of them. I made most of my own rules, but I also consulted the all-knowing internet for some other rules to make sure I'd have enough to drink. So thanks to Thrillist, Inquistr, and movieboozer.com for the inspiration. Here's what I came up with.
Drinks
Vin Diesel is wearing a cut-off or man-tank or is shirtless.
Mention of family.
Wrecked car.
One-liner.
The laws of physics are disobeyed.
Explosion.
Any character jumps from one car to another.
Any character is drinking.
Closeup of NOS release button being used or NOS sign. Or the word "NOS" said.
There's a fight.
Paul Walker and Vin Diesel bond.
In fact, anytime any male characters bond.
Wildcard. This is a loose game. I don't play by the rules. Much like the main characters.
DomBombs: First, let me explain a DomBomb. It's a shot that consists of one part Red Bull mixed with one part Four Loko. I want my heart like the movies. Fast and…hopefully not crashed into a wall. 
Anytime someone says "too fast", I have to yell "2 FURIOUS" at the screen. Then take a DomBomb.
A character transitions from bad guy to good guy.
A character transitions from good guy to bad guy.
Every heist.
Every scene including impossibly beautiful women wearing almost nothing.
A race is won by one of our main characters.
A car drives through a building or equivalent insane maneuver.
A main character dies.
A character's life is saved.
After credits scene.
Cameo.
When Paul Walker dies or whatever they do with him.
If I tear up when Paul Walker dies or rides off into the sunset and the "When I see you again" song comes on.
Wildcard. Again, whenever I feel it appropriate. I will make sure to note the reasoning.
So without further ado, it's The Fast and the Furious, Day 1. Here we go. 
We start in a shipping yard. A truck is being loaded with what looks like some pretty sweet tube TVs. Guess what? This movie was released 15 years ago. Tube TVs existed. You're old. Or really young. Depending on how you reacted to the idea of tube TVs existing. A shady construction worker ominously tells someone, "Don't forget my share of the deal." The truck pulls away.
Within minutes, a bunch of fast (and furious?) sounding cars surround the semi and shoot its windows out. This is a heist, therefore DOMBOMB. The DomBomb is sufficiently terrible. A car drives under the semi which is sweet. Drink. Do they succeed in their heist? Do they die? Probably not. That would be a short movie. It cuts out. We don't find out.
It's now daytime and Paul Walker (Brian) is driving a sweet looking car really fast. DON'T DO IT PAUL I KNOW YOUR FUTURE. RIP Paul. He survives this round. He goes to a place called Toretto's where Vin Diesel (Dom) is hanging out and their best friendship probably begins.
Brian orders a tuna sandwich. A gang with Michelle Rodriguez (Letty) walks up. Dom looks to be their leader, is also in a cutoff, drink. One of Dom's buddies goes, "What's up with this fool. Is he sandwich crazy?"
Brian decides he doesn't want to fight over sandwiches, so he leaves. Dom's buddy (Vince) follows him out and utters one of AFI's Top 100 Movie Quotes:
Vince: Yo! Try Fatburger from now on, get yourself a double cheese with fries for 2.95, faggot.
Brian: I like the tuna here.
Vince: Bullshit asshole, no one likes the tuna here.
Brian: Yeah, well I do.
They fight (drink). Listen, if anything encapsulates early 2000's male douchebag, it is definitely calling someone a faggot for liking a tuna sandwich. And then getting in a fight over it. Letty yells at Dom to stop the fight. Dom gets in Brian's face.
Brian: Hey man, he was in my face.
Dom: I'm in your face.
BURN. Drink. Brian walks away. There's a NOS sign. Brian needs NOS so bad he says it twice. 2x drink. The fight ends and it cuts to nighttime. There are a bunch of souped up cars, and Limp Bizkit is playing in the background. That deserves a drink. Two impossibly hot women appear dressed in nothing and counting. DOMBOMB.
Brian is approached by a guy named Hector who talks to him for a bit before JA RULE MAKES AN APPEARANCE AND I FORGET EVERYTHING ELSE THAT'S HAPPENING. HE DROPS SOME KNOWLEDGE BUT I WASN'T LISTENING BECAUSE I'M JUST SO HAPPY TO SEE HIM ALIVE. AT LEAST HE WAS 15 YEARS AGO. DOMBOMB FOR JA RULE.
A car rolls up and Dom pops out, still in a cutoff. Drink. Dom calls Hector over, and lays down the rules. Winner takes all. Brian strolls up and offers his pink slip. Says if he wins, he gets all the cash AND THEIR RESPECT. Whenever Paul Walker acts, it sounds as if his lines are being dubbed over as he's saying them. Dom looks on longingly. He's impressed. That's a drink. Ja Rule says NOS. Another drink. Dom lets Brian race.
They all drive to the meet-up spot. A hot girl, no, 2 hot girls, pop out in nothing. That's a DomBomb. Then a girl comes up to Ja Rule and places his hand on her boob and says if he wins, her boobs are all his, plus her friend's boobs. I don't know what he's going to do with four boobs, but I'll drink.
Brian tells himself he's gonna win. He has a computer in his car, so I believe him. But Dom has like 4 tanks of NOS so I have to drink 4 times and root for him instead.
HERE COMES THE RACE AND THERE'S FIRE.
Brian starts off bad. Dom is in control. This movie has some pretty terrible CGI.
FIRST BLAST OF NOS FROM BRIAN. Drink. Passes Ja Rule who yells NOOOOOOOOO. Awesome.
Dom is going 140 MPH. Brian yells at his computer, hits another NOS button, makes me drink. His car starts to fall apart. Serves him right. But he pulls into the lead! Then Dom pulls a NOS lever and makes me drink again. Brian spins out. SALTY. Dom wins. Brian shows up like a minute later. Sucks.
Ja Rule tries to touch that girl's boobs, but he didn't win so she spurns him. Rules are rules and he has to respect that. Solid win for feminism right there.
Everyone laughs at Brian because his car is smoking. Brian still says he almost won. Dom starts making fun of him in front of everybody. Bully. Then proceeds to talk mad shit about how Paul's car is worthless because he doesn't know how to drive and now it's broken. That's cold. You're supposed to be best friends.
Dom: It doesn't matter if you win by an inch or a mile, winning's winning.
BAM. CRUSHED IT. ONE-LINER AND A DRINK. I sorely underestimated how much I'd be drinking tonight.
OH SHIT COPS COPS COPS. Everyone scrams in perfect choreography. Somehow Brian's previously smoking and dying car still works and he's able to drive away. That's a drink.
A bunch of cops show up but don't really do anything except blare their sirens and drive around aimlessly. Dom easily escapes into a parking garage and walks away. That was even easier than Grand Theft Auto makes avoiding cops seem. Yet, one of the cops spots him and starts pursuing. He must have had at least a four-star wanted rating.
Brian comes out of nowhere and picks him up because they're destined to be best friends. I guess it was love at first sight and sometimes you just know. He drives Dom to safety.
Dom: You're the last person in the world I expected to show up.
Brian: Yeah well, I thought if I got in your good graces you might let me keep my car.
Dom: You are in my good graces, but you ain't keeping your car.
Oh, he's just playing hard to get. Drink.
They talk about being locked up, bond. Suddenly, a bunch of motorcycles surround them, point guns at them and tell them to follow. Some dude that Dom must be enemies with pops out and threatens him. The motorcycle gang starts to leave, then turn right around and shoot the fuck out of Brian's car. Usually you give someone more than 6 seconds before you cash in on your threat, but that's a wrecked car, so I drink. The car explodes. Awesome. That's another drink. Dom explains there was a business deal gone south, plus he slept with that dude's sister. Nice.
Dom and Brian take a taxi back to a party. Brian's about to head home and not be a good best friend, but Dom invites him in for a beer. The waitress from the sandwich shop lives at the party house, sees Brian, and gets turned on. Random girls are making out at the party plus too many impossibly hot girls dressed in nothing to count. That's a DomBomb. The rest of Dom's gang is in full party mode even though they just escaped the cops like 5 minutes ago. The cops would probably be well-served to just monitor this house instead of chasing everyone around aimlessly.
Walking through the party, Dom just grabs Vince's beer and gives it to Brian for saving him from the cops and says, "You can have any brew you want. As long as it's a Corona." Hence why I'm drinking Coronas.
Vince, the same guy who fought with Brian earlier, and hates sandwich eating homosexuals, is pissed. I bet they fight again at some point.
Letty brings Dom upstairs for a "massage". A penis massage I imagine. Dom tells Brian he still owes him a car. Brian and Vince almost get in another fight, but the waitress interrupts and brings Brian into her room. Sexy. She's Dom's sister. I knew that because she says, "Ya know, my brother likes you. He doesn't like anyone." Then she says, "You need to get some sleep. You also definitely need a shower." BURN. Erection softening one-liner. Drink.
It's the next day. The cops pull Brian over. They cuff him and bring him in. OH NO HE'S IN TROUBLE NO WAIT, APPARENTLY HE'S ON THEIR SIDE. That counts as going from bad guy to good guy. DOMBOMB. Looks like Brian's undercover and they need him to bust Dom for the truck hijacking earlier. Dom's been popping trucks for awhile and they need to get him.
Cut to next scene. Dom's in a man-tank. Drink.
Brian brings him a new car that's totally wrecked. But it's got a good engine, so he says it counts. Dom invites Brian to work for him, but it's more like he invites Brian to be best friends with him. I see a tank of NOS. Drink.
Brian and one of Dom's flunkies are talking about rebuilding the car. Paul thinks the flunky's smart and should go to MIT. I mean, there are plenty of other options for smart people. Like community college first, then state college, or maybe just an internship. Not everyone can afford to go to private school. But dude says he has ADD, so that's a good enough excuse I suppose.
Cut to next scene, Dom and friends are having a barbecue. Dom is finally wearing sleeves    :(. Everyone is drinking at this barbecue. Drink again. They have a nice dinner. 
Now it's nighttime and Brian is washing dishes with Dom's sister, Mia (Jordana Brewster). Vince comes in and starts talking shit. Mia decides to ask Brian on a date in front of Vince to piss him off. That's cold. He has feelings too. Brian and Vince are definitely going to fight to the death at some point. And then Brian and Mia are going to do it. 8====D (()). Like that.
Cut to the next day and Hector comes into Brian's other job. They're friends now. He needs car stuff and offers a bunch of cash. We cut over to another race meetup, and Brian is nearby scaling a building to spy on the meetup. He breaks into a warehouse full of cars and starts looking around, when all of a sudden he gets rifle-whipped by Vince! He thinks Brian's a cop. He's right. But still, dick move. Dom appears. He demands an explanation and is still wearing sleeves for some reason.
Brian sells Hector out by telling Dom that Hector came in to order a bunch of parts and NOS (drink!)! Poor Hector. Vince still thinks Brian's a cop. Brian says he was actually spying for Dom. Dom is unconvinced and brings Brian to a rooftop to break into another garage to prove himself. Brian sees a bunch of shitty tube TVs and stereos WHICH WERE PROBABLY STOLEN. The garage belongs to the motorcycle gang.
As they watch, the motorcycle gang threatens Brian's boss. They pour oil in his mouth because there are no engines in their cars. Gross, he probably throws up or dies later from oil poisoning. Brian and friends watch from a darkened corner. I think Brian took those engines and gave them to Hector. He should be ashamed of himself.
Cut to the next day at police headquarters. They want to know what Brian knows. Brian says he doesn't think Dom is the one who robbed the trucks. They don't believe him. They're professionals, and I agree with their assessment. Brian has a new best friend and sometimes it's hard to judge your new best friend. They also think Brian's in love with Dom's sister and is holding back info because of it. They are really good at their jobs. Brian counters by saying he needs a few more days. My amount of drinking is slowing down while they develop the plot.
We cut to Dom's garage. Dom is wearing sleeves again, which is bullshit. He asks Brian about his date plans with his sister, and says, "If you break her heart, I'll break your neck." That's fair. Also, one-liner. Drink. Dom brings Brian to his personal garage. Shows him a bomb-ass car that he's never driven because it scares the shit out of him. Why you ask? I don't know if you asked that, but I did. The answer is too much power. It was his dad's car. Apparently his dad was in a race, crashed, and burned to death. People said his dad died before the car exploded and that the screaming he heard was his own. That's super dark. Then Dom beat the dude responsible to death with a wrench. 
Dom goes,
I live my life a quarter mile at a time.
DOMBOMB. Also, not a great justification Dom.
On a lighter note, we cut to Brian's date with Mia. They're talking, and from what I gather, Brian's rival, Vince, is Letty's brother. So that's how they're all related. Brian says he wants her, and being friends with Dom is secondary. We know better ;).
Quick cut to a new scene of a truck getting jacked. Heist! DOMBOMB. We cut back to Brian's date. He gets a call from his police friends saying they think there's a heist and they're moving in. Yeah, we just saw. But again, the police are doing their jobs pretty well. Mia asks who was calling. So nosy. He lies and says it must have been a wrong number. Not a good start to your relationship you guys.
We cut to Dom and Letty making out. Dom takes off his shirt. Drink. Hot. Also, the police getting ready for a raid. They make a bust on the motorcycle gang. They nab the leader. Dom is still having sex with Letty.
Cut back to police headquarters. The DVD players they found were purchased legally, which makes sense because why is there a black market for $20 DVD players? Regardless, that means Brian's info was garbage, and now he's in trouble with his superiors. They tell him he has 36 hours to crack his case or he should think about another career. Brian looks sad, like he might cry.
Cut to new scene. Brian and Dom are driving near the coast and challenge some dude to a race. Dom tells Brian to "Smoke 'em." They're bonding. That's a drink. Brian kicks the shit out of the random dude, pulls into a biker bar. Bunch of scantily clad ladies. DomBomb.
Brian and Dom bond some more. Brian says "dawg" at some point. That's a drink. Brian accuses Dom of stealing because there's no way he could afford everything that's in his cars. But then says, whatever he's in on, he wants in on too. Dom looks at Brian like he's offended, then pulls out something from his pocket. It's directions to a race war. Which here in 2016 means something completely different, but in this case it's just an actual car race. Tells Brian we'll see how you do, then we'll talk.
Cut to the race which seems to be a pretty decently sanctioned drag race on a US government base, and not a problematic actual race war, which you can go discuss in any Gawker comment section if you please. There are legit security guards there and everything. There are also a lot of hot girls wearing nothing, so DOMBOMB. Letty is also there, talking shit to some random guy before the race. The race is neck and neck, until she hits the NOS. Drink. Kicks his ass. That a girl Letty.
Brian is walking around, finds the MIT  flunky from before, whose name is Jesse. He's about to race. Brian tries to talk him out of it so he doesn't lose his car. Jesse wants to race anyway. Turns out he's racing the head of that motorcycle gang. He's going to lose I bet, but then he hits the NOS (drink) so maybe not! But then the other guy hits his secret weapon…NOS! Drink. He pulls ahead to win easily. Jesse's going to lose his car. Sad! Panicked, he keeps driving away. Motorcycle head guy is pissed and approaches Dom to accuse him of selling him out because of the FBI raid, which happened like 10 hours ago as far as I'm concerned. So like, just let it go man.
THEN DOM PUNCHES HIM IN THE FACE. Drink. Keeps punching him in the face. Nice. Letty punches another dude in the face. It's a fight! Drink. Brian's watching the whole thing. He should feel guilty. Shame Brian. Shame. Dom yells he never narcs on nobody. I believe him. Mostly because I've watched the movie and it was Brian's fault.
The fight must have ended in hugs and kisses because now it's nighttime. Brian still hasn't raced, but that's no longer important. He pounds on Mia's trailer. She's not home, but he walks in anyway. NOT OKAY BRIAN. Out the window he sees Dom yelling at her before he drives off. Brian walks out to find Mia. Yells at her some more. Which I'm sure will come up in their next relationship counselling session.
He's asking why Dom's driving away in the middle of the night. THEN ADMITS HE'S A COP TO HER. WOW, BOMBSHELL. NO, DOMBOMBSHELL. He tells her he's been undercover ever since he met her. She's pissed. He says everything he said to her was real, BUT IT ISN'T ABOUT THEM ANYMORE. They have to save Jesse.
He tells her they'll make it through the night, but then every law officer will be after them and she needs to tell him if she wants to help. IS HE SWITCHING SIDES? CAUSE THAT'S A DOMBOMB. But let's wait until we see for sure.
Brian and Mia drive off after Dom and Jesse. Brian calls for a trace on Dom's cellphone, but first needs to ask Mia for Dom's cellphone number. Why doesn't he have it yet? They've been hanging out for weeks now and have been best friends for at least the entire time by my count. MORE IMPORTANTLY, IS HE GONNA NARC OR NOT? A DOMBOMB IS AT STAKE.
Cut to Dom and friends at an undisclosed location.  Vince says it doesn't feel right. Letty says something's wrong. They shouldn't do this heist without Jesse. So I guess they just assume he won't get killed while they quick go off and do a heist. That doesn't sound very family-like, DOM. 
Also, Dom hasn't worn a cutoff in forever. Anyway, Dom says this is the mother lode. And to be fair, a truckload of tube TVs and VCRs could fetch them at least five hundred dollars. For like an hour and a half of work? I have to admit, that does come out to a pretty solid hourly wage. Letty looks conflicted, but she'll follow Dom anywhere.
Cut to Brian. He got the trace. He's 40 miles away. Mia asks what he's going to do. He doesn't answer. Probably something badass is my guess. Or he just didn't hear her. This is why communication is so important in relationships.
Cut back to Dom and gang. They're trailing the trucker. LOOKS LIKE A HEIST TO ME. WAIT I ALREADY SAID THAT. DOMBOMB ANYWAY. Vince pulls out in front and shoots a couple hooks into the truck, then jumps onto the truck himself. THE DRIVER HAS A SHOTGUN HOLY SHIT. ALSO THAT'S A DRINK FOR JUMPING FROM ONE CAR TO ANOTHER.
Letty pulls up to distract the trucker. The trucker shoots through her window. She pulls back. Vince tries to jump back to Dom's car, but the trucker jerks away and Vince is now barely hanging off. The trucker continues shooting at him. I want Vince to jump back to Dom's car so I can drink, but he's not cooperating.
The trucker runs Letty off the road. She's okay. That's good, but Dom is now on his own and Vince is still struggling, but whatever, he sucks.
All of a sudden Brian speeds by. That was only 5 minutes. Either his trace is bullshit or he was driving 480 mph. He's closing in. Dom spins out, but Brian keeps going. HE'S NECK AND NECK WITH THE TRUCK AND ABOUT TO JUMP OUT OF THE CAR. HE TELLS MIA TO TAKE THE WHEEL. HE JUMPS. THAT'S A DRINK. HE SAVES VINCE EVEN THOUGH THAT'S HIS RIVAL AND JUMPS BACK TO HIS ORIGINAL CAR. THAT'S A DRINK AND A DOMBOMB.
They pull off and everyone joins back up. Vince needs medical attention immediately. Brian calls for medical backup, then risks his entire relationship with Dom by saying he's PD to the dispatch. HE JUST DROPPED THE BOMB IN FRONT OF DOM. IT REALLY GOES WITHOUT SAYING BUT YOU COULD SAY HE JUST DROPPED A…DOMBOMB.
Dom looks betrayed. He wants answers. But his other, less important friend's dying, so he can't punch Brian in the face right now.
A helicopter comes and takes Vince away. Dom walks away pissed. Mia looks at Dom, looks at Brian, and even though he's pretty hot, she chooses her brother, and they leave. Damn Brian. Looks like the two loves of your life just walked out on you.
We cut to the next day. Brian, not accepting the previous day's rejection, pulls up to Dom's house. Like just let it go, you have a good job man. Don't risk it for true love. Do you know how hard it is to get another job in this economy? Best case scenario you have to move back home for a few months while you reach out to some recruiters. Despite my protestations, Brian continues on. Dom comes out with a shotgun.
BUT THEN BRIAN PULLS A GUN. THAT'S NOT HOW YOU GET A JOB. THIS IS INTENSE. THEY HAVE A STANDOFF. BRIAN WANTS TO HELP. DOM IS UNDERSTANDABLY PISSED. Mia comes out. JESSE DRIVES UP WITH THE CAR HE OWES TO THE MOTORCYLE GANG. Oh good, he didn't get killed in the meantime. OH NO THE MOTORCYCLE GANG IS COMING. THEY HAVE GUNS AND SHOOT THE HELL OUT OF EVERYONE. ONLY JESSE IS HIT. HE DIES. DOMBOMB. YES! NO WAIT NOOOOOOOOOOO.
Brian takes off after the motorcycle gang. So does Dom. IN HIS DAD'S CAR HE WAS SCARED OF. HE'S ABOUT TO LIVE HIS LIFE A QUARTER MILE AT A TIME.
BRIAN IS PISSED. HE HITS THE NOS. DRINK. BAD GUYS SHOOT AT HIS CAR BUT HE AVOIDS IT. Not really, but the bullets don't hit anything important, so basically the same thing. It's really hard to avoid bullets, BUT BRIAN DID IT. NICE JOB.
Brian keeps pursuing. THIS IS A CHASE. HERE COMES DOM. HE BUMPS ONE MOTORCYCLE OFF A CLIFF. WHERE DID THAT CLIFF COME FROM? EVERY MOVIE SHOULD HAVE GIANT CLIFFS.
NOW IT'S JUST BRIAN AND ONE OTHER GUY. BRIAN SHOOTS HIM OFF HIS MOTORCYCLE. HE'S DEAD. NICE. DOMBOMB.
Though he just vanquished the bad guys, Brian continues to chase after Dom, But not before telling some random person to call 911 for the dudes they pushed off a mile high cliff and shot with 80 bullets. He may have turned, but he's still a responsible person.
Brian pulls up side by side with Dom. I BET THIS IS GOING TO BE A BONDING MOMENT. I'M WAITING TO DRINK. They're going to drag race. Dom says something about how his high school is a quarter mile away. HOLY SHIT HE REALLY DOES LIVE HIS LIFE A QUARTER MILE AT A TIME. MAYBE HE SHOULD JUST GET OVER IT THOUGH.
Still, this is definitely a bonding moment. THEY RACE. AND I SEE A NOS CONTAINER. THAT'S TWO DRINKS. OH SHIT HERE COMES A TRAIN ABOUT TO KILL EVERYBODY. THEN ANOTHER NOS DEPLOYMENT. ANOTHER DRINK. DOM'S CAR IS ABOUT TO GIVE OUT. OH NO DON'T GET KILLED BY THE TRAIN! DOM AND BRIAN LOOK AT EACH OTHER IN SLOW MOTION. HOT. THEY BOTH LOOK PANICKED AND TURNED ON. THEY APPROACH THE TRAIN TRACKS. ANOTHER NOS DEPLOYMENT.
THE TRAIN BARELY MISSES THEM. DOMBOMB. THEY LOOK AT EACH OTHER. MORE BONDING. DRINK.
Phew, they live to bond another day. AND THEN OUT OF NOWHERE HOLY SHIT DOM GETS SWIDESWIPED BY A TRUCK. NOOOOOOOOOOOOOOOOOOOOOOOOOOOOOOOOOOOOOOOOOOOOOOOOOOO. DomBomb.
Dom flies a million feet and is still totally okay. Cars are so much safer these days. Thank god. Drink.
We cut to Dom. Dom: "That's not what I had in mind." NAILED IT. DRINK.
Dom and Brian stand around for a little bit looking around. They look like they wanna make out. Bonding. Drink. Brian gives Dom his keys. And in an entire movie-related payoff, shrugs and says he owes him a car.
SUPER BONDING AND I BELIEVE THAT'S A TRUE TURN FROM A GOOD GUY TO A BAD GUY. DOMBOMB AND DRINK. CREDITS BOOM. Absolutely nailed the end of this movie.
AND THEN TO TOP IT OFF, THE CREDIT SONG IS JA RULE. DRINK AGAIN.
But wait, there's an after credits scene. DOMBOMB.
Dom monologues, "I live my life a quarter mile at a time." Drives off into the sunset. Perfect ending. Drink.
Total: 62 drinks, 14 DomBombs