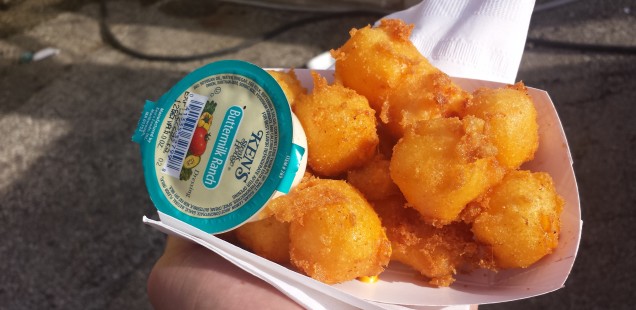 Deep Fried, Sticked, and Cheesed: The Top 10 Foods of the Wisconsin State Fair
The State Fair is a wonderful place full of nutritional abominations. Which means it's home to the most delicious food we could possibly ever dream of consuming. Along with my friends Jarrett, Joe, and Tom, we set out to explore this fantastical fair of flavor and determine the top ten foods of the Wisconsin State Fair.
Honorable Mentions
Bacon Bottom Porker Pizza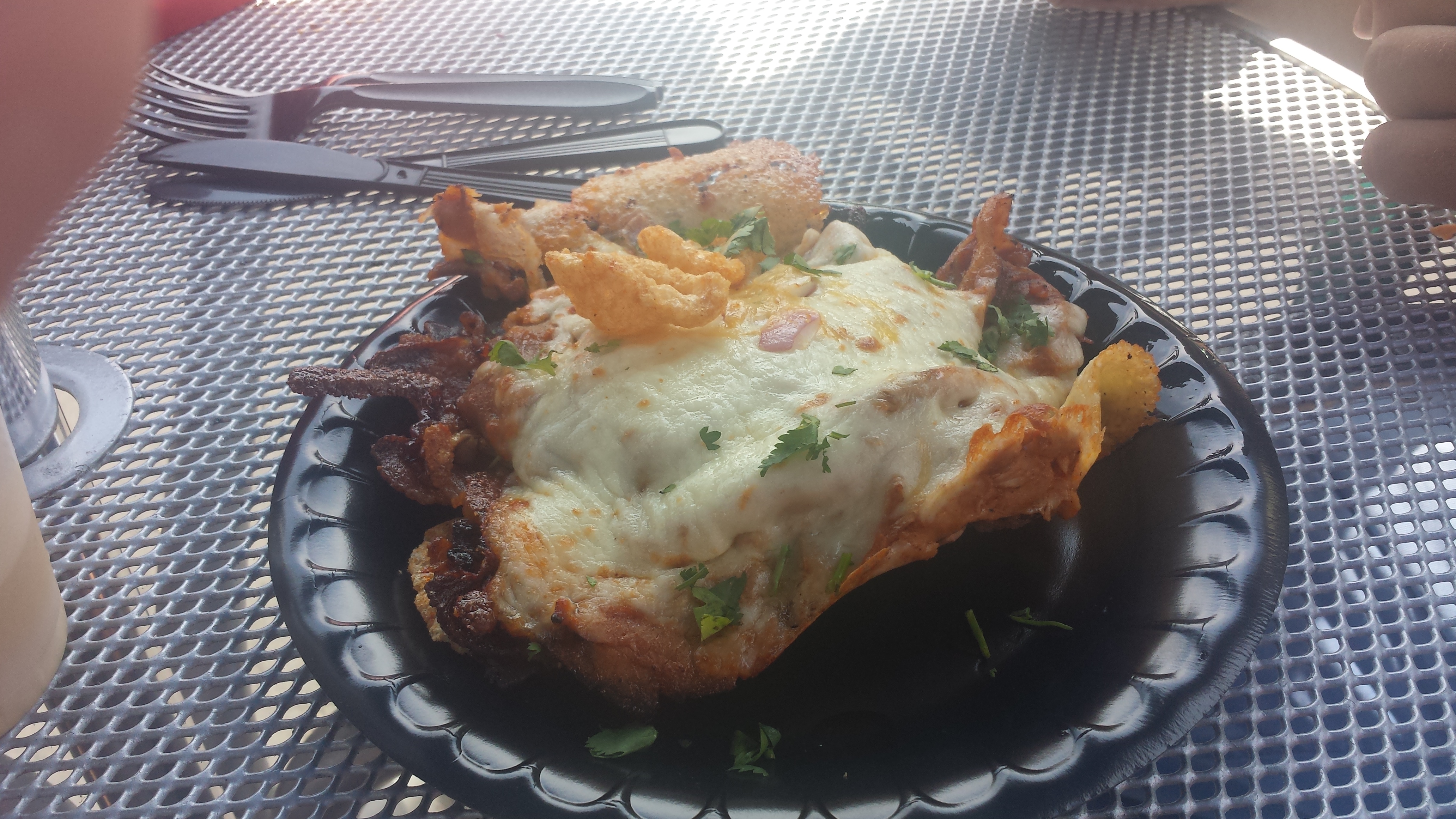 Bacon weave bottom, smothered in Oktoberfest BBQ sauce, pulled pork, mozzarella and gouda, red onion, cilantro, and pork chicharron (pork rind). A real disappointment. When you look at the description, it should really be better than it is. But then again, it retrospect, we should've seen this coming.
It's just too much. Too much pork. It's not really a pizza, more of a pulled pork casserole, and it could have actually used more bacon and pork rinds. There needed to be a better balance, and this blew right past balance until it fell over (Nailed that joke). Also fuck red onions.
Milks
A quarter a piece. Great deal. Out of all the food we ate, made me feel most full and sick to my stomach.
Corn Dog
A corn dog is a corn dog and if you haven't had a corn dog you need to eat a corn dog. It's also on a stick.
Miller Lite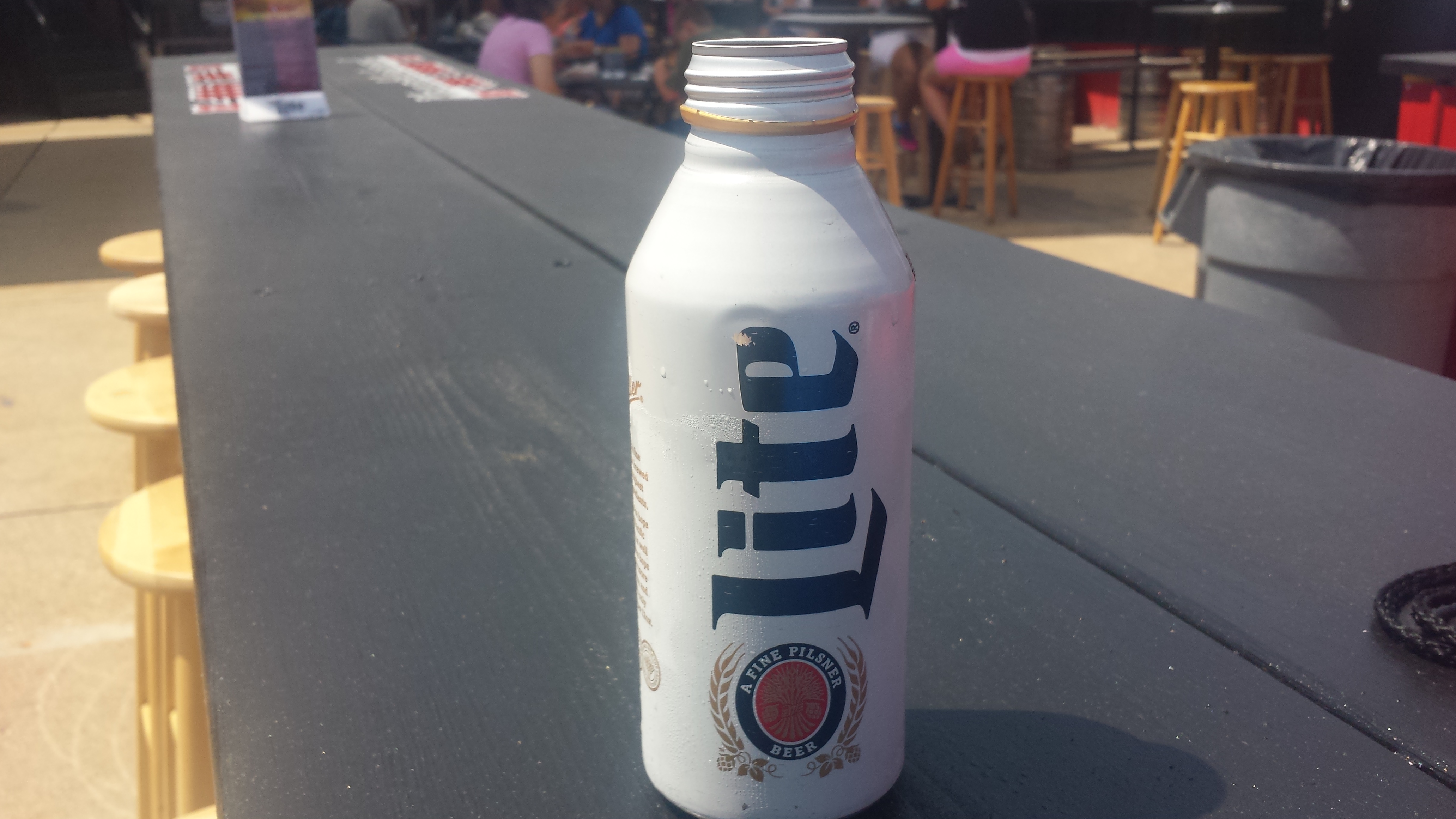 We…had a few of these.
The Top Ten
10) Beer Float
Exactly what it sounds like. A root beer float, except with beer. Lakefront Oktoberfest beer in my case. The thing with this is, you just have to adjust your expectations. It's not a sweet treat. It's definitely still beer. But if you just expect a normal beer drinking experience going in, the ice cream then adds a nice little flavor to the end. Like, "Hey, that's a pretty good beer. Oooh, ice cream!" On a hot day, it was actually pretty refreshing.
"It's not like they go together great. They don't. But it's kinda nice to walk around with beer and ice cream at the same time." – Tom
9) Beer Battered Pretzel Coated Cheese Curds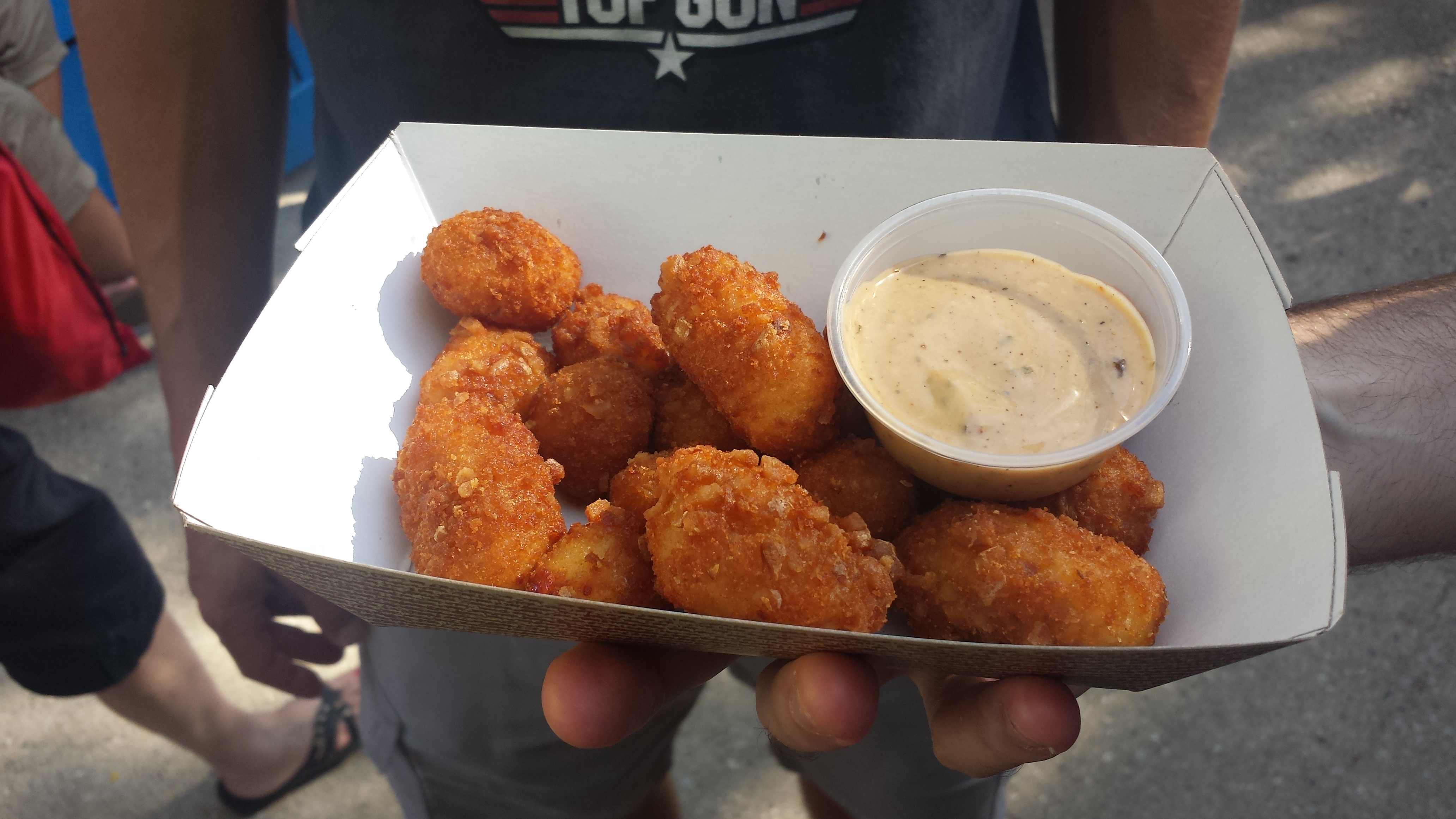 The thing is, you really can't go wrong with cheese curds. If you do, you've done a great disservice to your friends, your family, and future generations to come. So while these weren't anything special—maybe slightly sweeter than normal curds?—they were still solid cheese curds. The dipping sauce was also…there.
"Too many strong flavors." – Jarrett, who has a different definition of strong.
8) Parmesan Truffle Tater Tots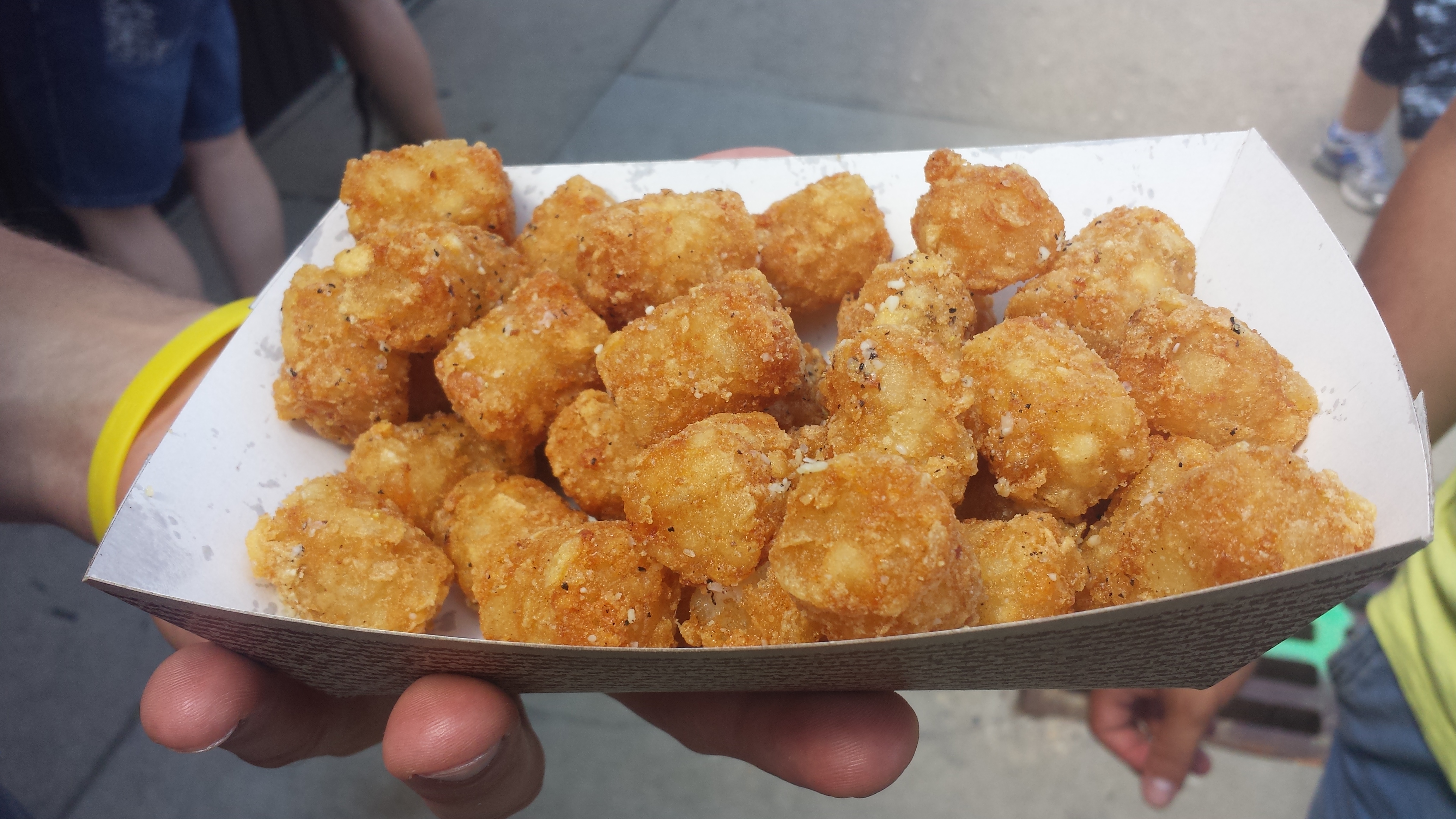 Tastes pretty much like what you'd expect. If you've had truffle parmesan anything, just imagine it with tater tots instead. They could have really used some sort of dipping sauce, like an aioli (aka fancy mayo), but at the end of the day, these were well made, crispy on the outside, soft and beautiful on the inside tater tots. Just another one of life's miracles.
7) Wis-Cone-Sin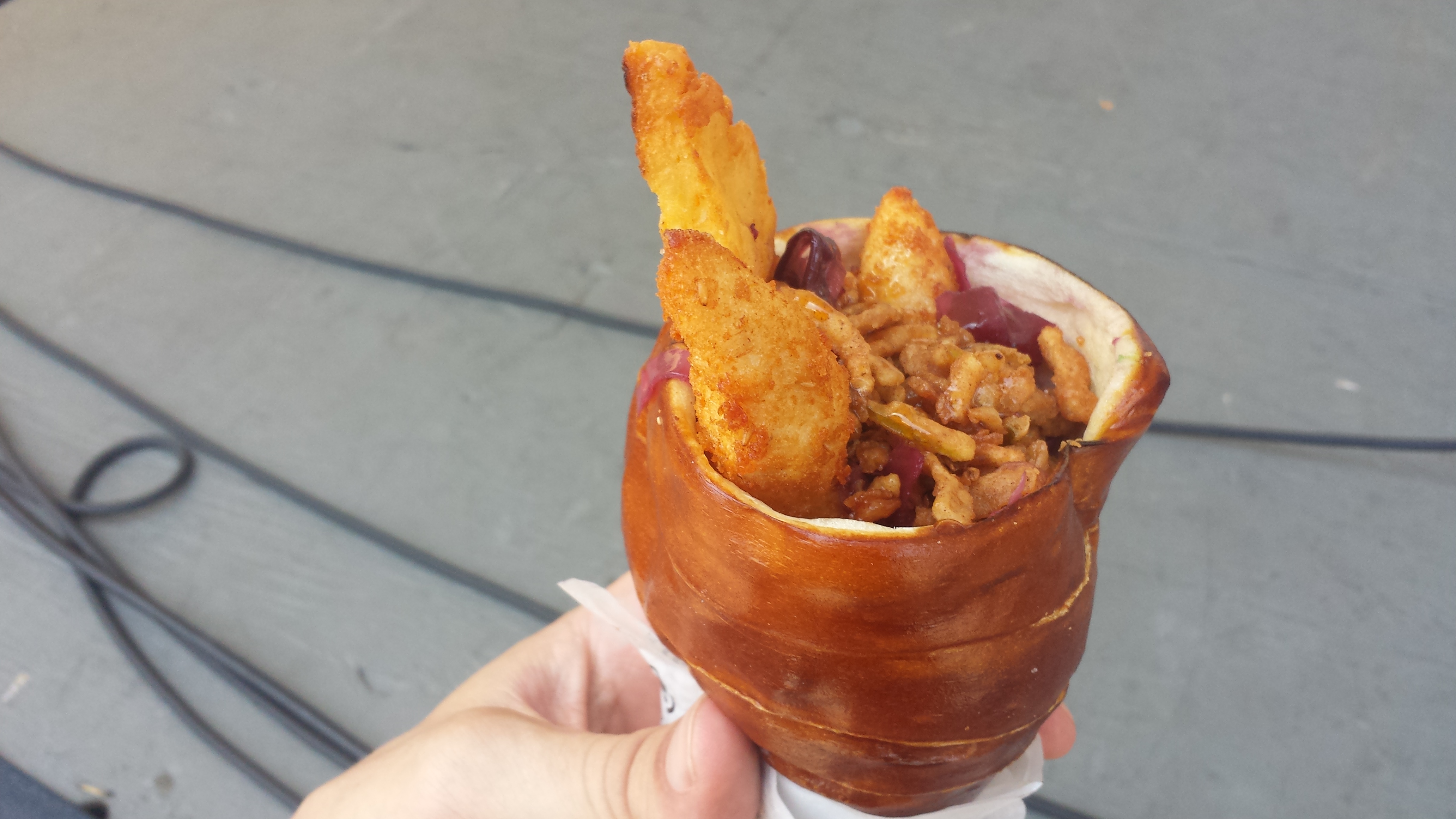 Soft pretzel cone filled with rotkohl (German cabbage, literally "red cabbage"—FINALLY, my six years of German pays off), chicken schnitzel, a potato pancake wedge, and crispy cinnamon apple straws, drizzled with Oktoberfest reduction.
Super fancy. Much respect for the German heritage of the state. However, and I can't believe I'm saying this about a State Fair food, it really needed more salt. The cinnamon straws were kind of an unneeded sweetness that made every bite taste a little bit like Apple Jacks. And don't get me wrong, Apple Jacks are awesome, but I want my bite to be MEAT POTATOES PRETZEL CABBAGE. The German Food Pyramid. There were a few fantastic bites here, enough to bump it up a few spots. But again, it really did need some seasoning. Of salt. I should feel my heart beating through my neck or else I don't even know what I'm doing here.
Other reviews included an enthusiastic:
"Meh" – Tom
6) Cream Puff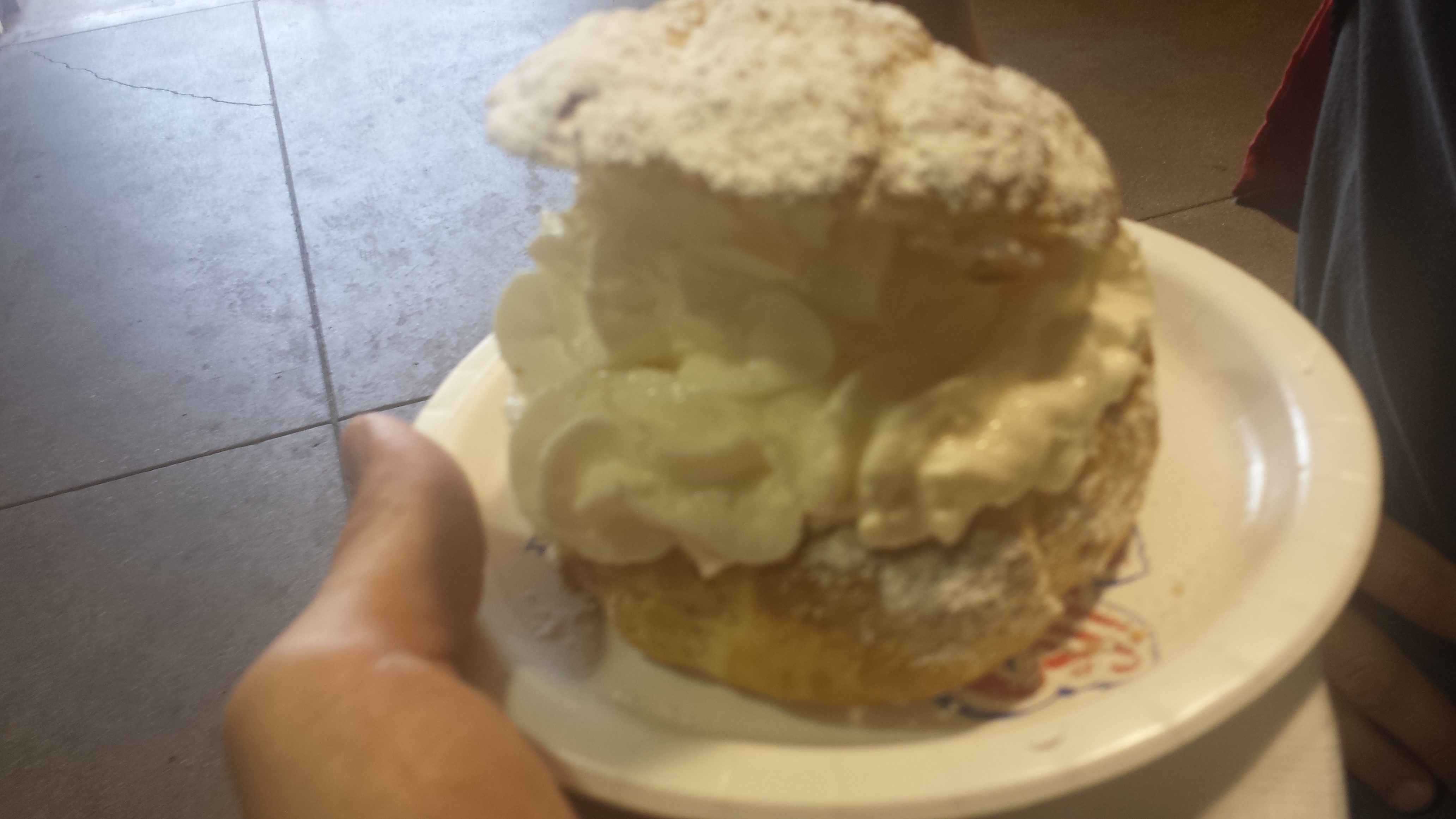 The only real dessert item we ate. As much fanfair (Get it? Like fanfare, but spelled with fair? I came up with that myself.) as it gets, it's really nothing special. It's a whipped cream sandwich. Which now that I explain it like that, it sounds amazing and I want more.
5) Bacon Wrapped Tater Tots On A Stick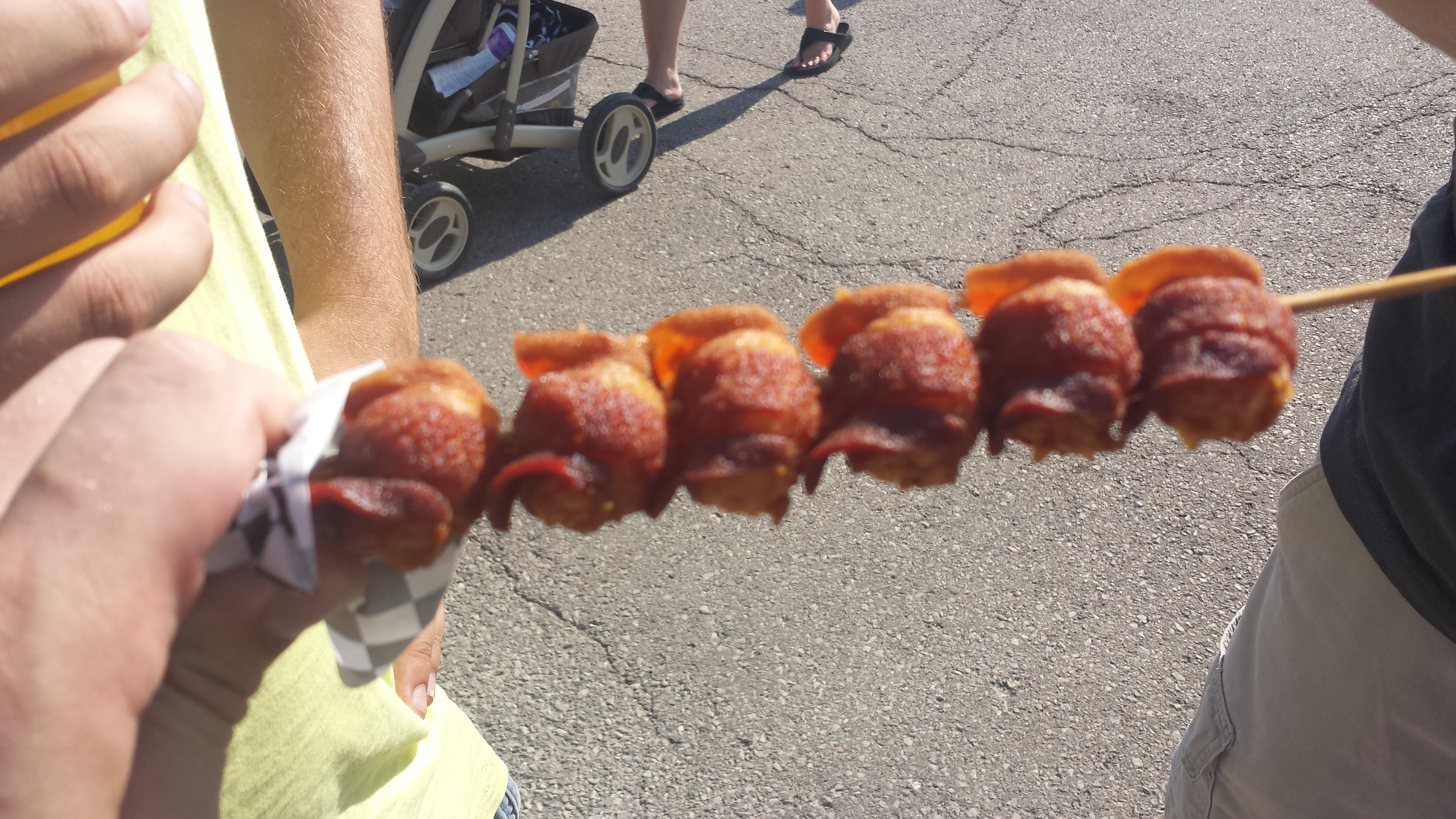 First, we have to remember the golden rule of tater tots. They're always good. Especially deep fried. Much like cheese curds, if you mess up a deep fried tater tot, your family and friends should get to take turns throwing butter knifes at you and saying really mean things that hurt your feelings.
These are no exception. However, you only get 6 of them for $6. Not a good value play. With that said, the bacon does add enough flavor to justify its place in the rankings.
"It could have used more salt." – Joe, who I agreed with. I don't understand this. Why is there a shortage of salt? This is State Fair. THIS IS NOT THE AMERICA I AGREED TO OBAMA.
4) Mozzarella Sticks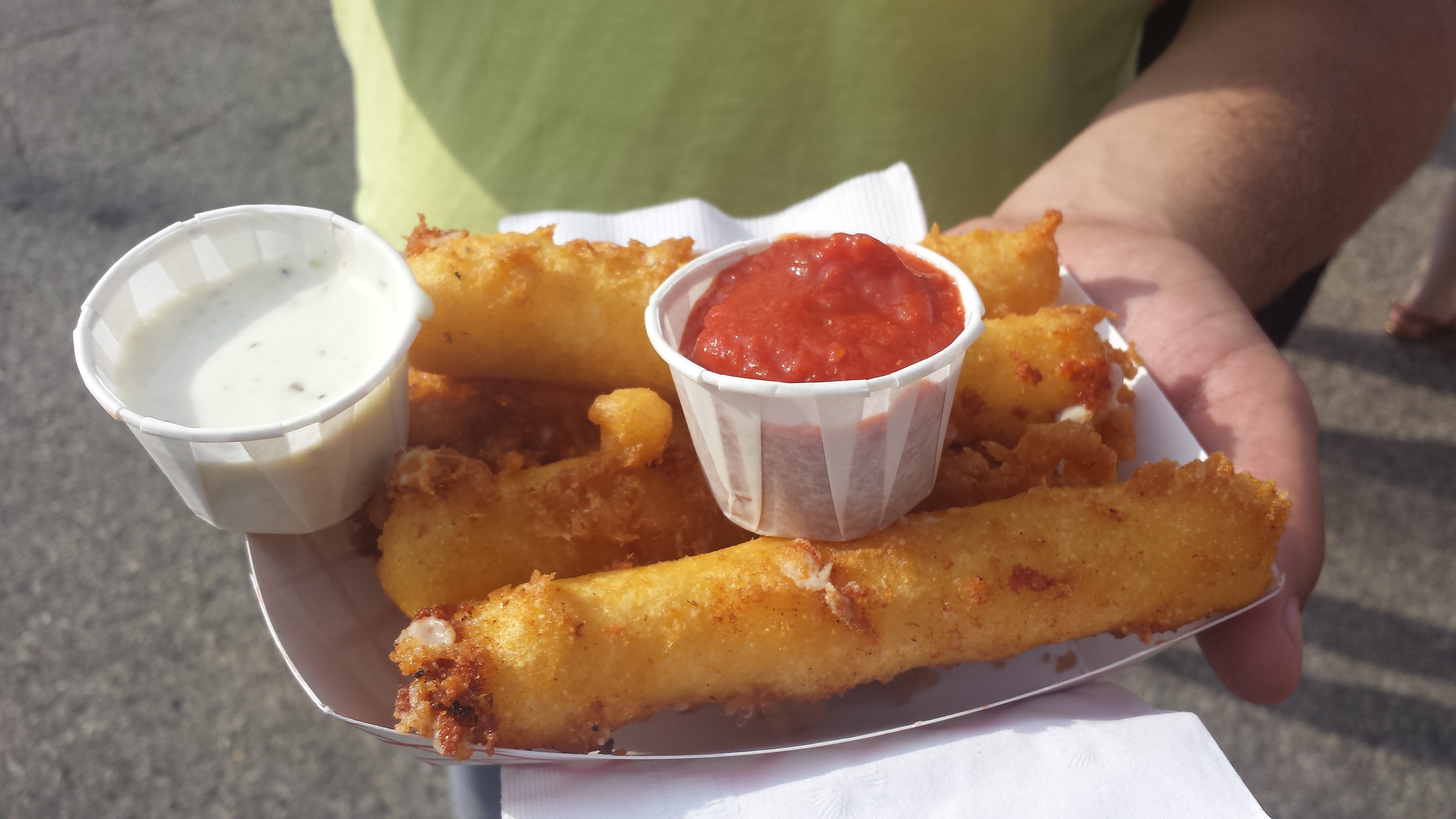 Deep fried cheese. Pretty standard food fare. Or should I say food…fai-.  No, I shouldn't. Have you ever gone to a restaurant and ordered mozzarella sticks that were the bullshit breaded ones as limp as a sad penis? Those are not okay. And neither was that analogy.
3) Loaded Twister Dog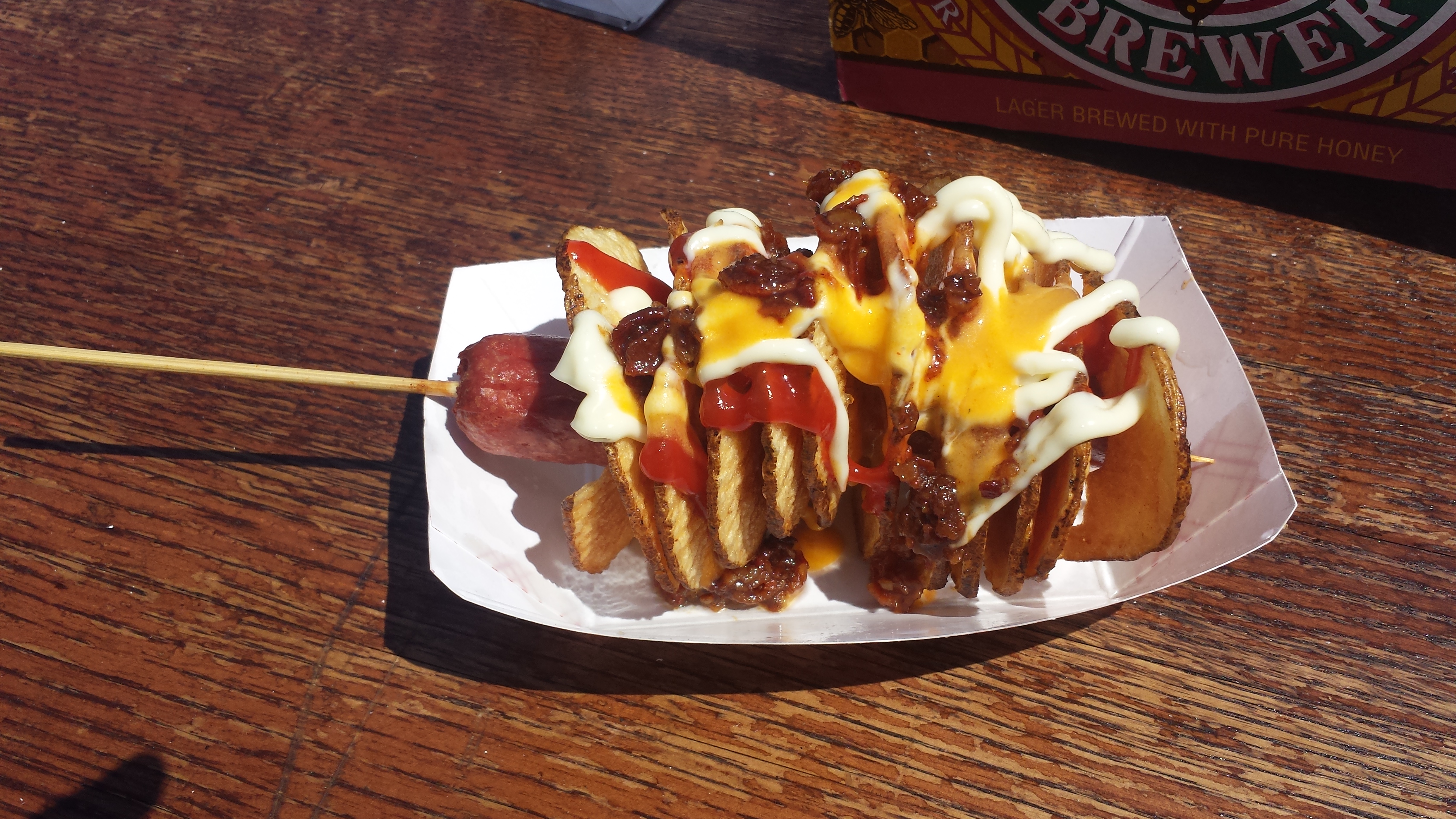 Spiral cut potato wrapped around an all beef hot dog, deep fried on a stick. Topped with jalapeno pale ale cheez whiz, sriracha ketchup, mayo, and Oktoberfest candied bacon.
This is what a winner looks like. Just look at all that unnecessary sauce. The stick made it especially difficult to eat without impaling the back of your throat, but that just made it DANGEROUS and EXCITING. Which as you know, are the key ingredients to SEXY. And while difficult to eat, we couldn't deny the flavor, extracting such praise as:
"It was good." – Jarrett
And
"I liked it." – Me
Once we figured out it would be better to just pick off the chips and bacon, then take a bite out of the hot dog, it really came together. All the flavors mix quite well into a lovely treat.
2) Cheddar Cheese Balls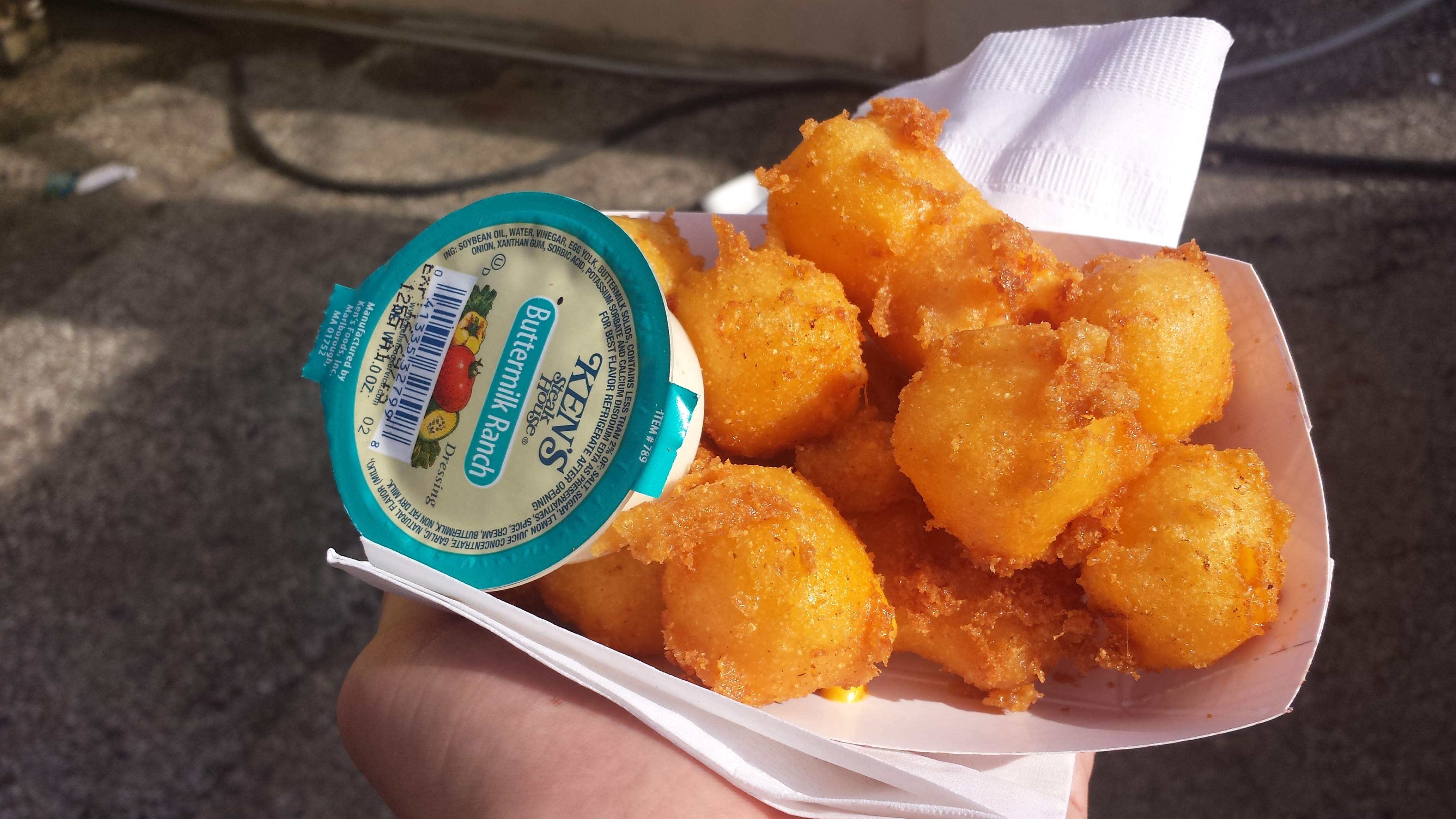 This. This is how you make cheese curds. While you can't mess up cheese curds, you can certainly improve upon them. And this is how. MAKE THEM THE SIZE OF A BASEBALL AND DIP THEM IN RANCH.
"If I was taking a friend to State Fair and they could only get one food item, I would tell them to get this." – Tom, exploring a hypothetical situation where he has a stupid, shitty friend who doesn't know how to do State Fair.
1) Donut Grilled Cheese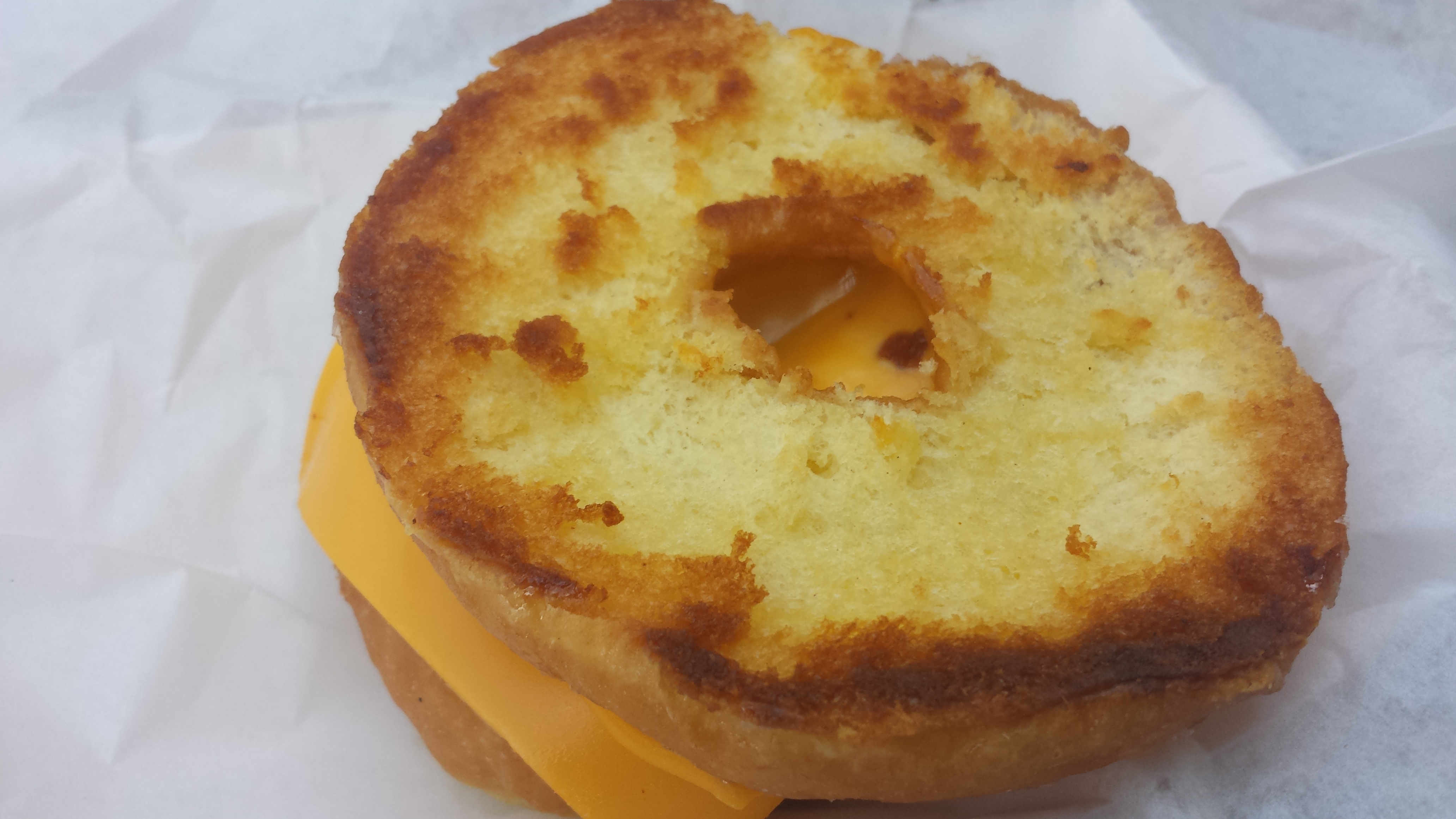 So simple, but hits the perfect sweet spot. With all the excesses of the State Fair, it's nice to see such a simple, disgusting sounding concept nailed to perfection. It tastes exactly like you think it does. You take a bite and it's a delightfully, buttery toasted grilled cheese before the slightly sweet aftertaste of the donut finishes it off in a happy ending of flavor. There's nothing else to say about it, except:
"Texture was grilled cheese. Then donut in your face." – Joe