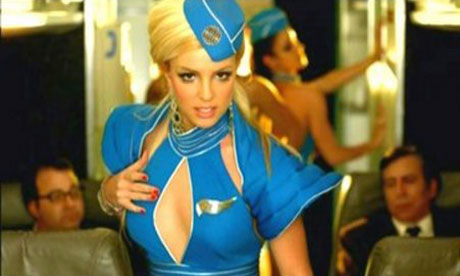 Top 50 Shameless Pop Power Rankings (40-31)
Previously: Top 50 Shameless Pop Power Rankings (50-41)
Britney vs. Christina! Enrique Iglesias! Jessica Simpson! All this and more in Shameless Pop's Shameless Pop Power Rankings (40-31)!
Okay, let's address the elephant in the room: Jessica Simpson. ZING! But seriously, she was never fat, grow up. "I Think I'm In Love With You"(#40) is clearly copied off of a way better John Mellencamp song ("Jack and Diane"), but I can't help enjoying it anyway.

Between the videos for "I Think I'm In Love With You" and "Heartbreaker" (#39), there is some incredible '90s fashion going on. The first thing you'll notice is that baggy cargo pants were clearly a good choice, and even the "sexy" jeans have a clear mom jean influence in them. Which, by the way, have never made sense to me. Is there anything uglier? When does someone make the conscious decision to say, "I wanna look like that"? Or is it just the female version of "this is America, fuck you"? 
Ya know what, I'm over it. If you want to wear mom jeans when you grow up, you go ahead and do you; in fact, the next songs are all about female empowerment. "Man! I Feel Like A Woman!"(#38), "Independent Women Part 1"(#37), and "If I Were A Boy"(#36) deal with taking pride in being a woman by going out dancing, shopping, and complaining, respectively….okay, so there's a chance I wasn't listening close enough, but what's important is that all three are great songs. I mean, Beyonce spends most of "If I Were A Boy" explaining how men like to treat women like shit, and that clearly we could never understand because we're just dumb boys who like to make girls cry. But I'm alright with that. Not that I agree or think it's cool to treat women like that, but I love the song, and the impressive emotion Beyonce puts into her singing is inspiring to the point that she could be singing about me being an asshole because I kick puppies and hang out with Jafar from Aladdin, and I'd just be like, "Yeah, fuck that guy!"

I don't have much to say about "Dancing Queen"(#35), but the music video for it features some of the worst "awkward white people dancing" I've ever seen, which seems fitting. I like the song and all, but after watching the video that's really all I can think of, and I LOVE IT.
"Escape"(#34), on the other hand, makes me question if my love of Enrique Iglesias has been misguided. Between "You can run, you can hide/But you can't escape my love" and lately, "I don't mean to be rude/ But tonight I'm fucking you", I just have to ask, is he…is he going to rape me?

And now, I have a couple of confessions to make. First, I lied, there are more than 50 songs on this list. Yes, I cheated and grouped a couple together, but last I checked, this is America, fuck you. A lot of the higher ranked songs on this list owe a lot to Cascada and her techno/dance music, or rather, in reality, they owe a lot to the artists who actually originated the style, but never become famous. However, in my world, they owe a lot to Cascada, and for that reason "Evacuate the Dancefloor" and "Everytime We Touch" share the #33 spot (on a sidenote, the top comment on the video for "Evacuate the Dancefloor" is "I love her boobs!!!", so there's that).

And secondly, I've never really been much of a Britney Spears fan. To be fair, I did like a decent amount of her songs, including "Toxic"(#32) (and a couple more that just missed the cut), but taken as a whole, I find her music to be underwhelming. Most of it was just really bland background music for the much more important music videos. I can remember back to when it was Britney Spears and Christina Aguilera (with Jessica Simpson in a distant third) as the two big names in pop music battling for the public's adoration and teen boys'…hearts, and I'm not ashamed to say I was part of the Team Christina minority. To me, the songs, especially "Come On Over (All I Want Is You)"(#31), seemed to have more of a fun energy that Britney's music lacked, and I also found her more attractive. Which, yes, superficial. However, if you were a teen in the pre-internet era, this. Many boys turned into men that day.

UP NEXT: One Direction and the return of boy bands (Edit: not yet, due to a last minute change in the rankings), Taylor Swift makes her debut, and Chris Brown makes an appearance on TOP 50 SHAMELESS POP POWER RANKINGS (30-21).